Ek Mini Katha (2021)
​As the marriage date approaches, Santosh decides to reveal the truth to Amrutha. They meet at a joggers park on Valentine's Day. Unfortunately, Santosh's father comes to the same park, seeing Santosh and Amrutha go behind a tree. But they are caught by the right-winged Hindu group that doesn't encourage Valentine's Day. They forcibly get Santosh married to Amrutha and is all covered on live tv which becomes an embarrassment for both families. They come to terms with it and plan a grand reception. During the reception, Amrutha gets to meet all of Santosh's maternal cousins including a Saptagiri who is mad about Santosh, a cousin with suicidal tendencies due to love failure, a Tik tok addict girl, and a grandfather who is obsessed with Pooja Hegde. They are all not liked by Santosh's father and never allows them to visit his house.
The families plan the first night for the couple, however, Santosh tries to delay it due to his problem. He tricks all his cousins to stay for the next 10 days thus delaying it. He also foils the honeymoon trip sponsored by his company by deliberately missing the train. He also comes to know from his social media group that a new Ayurvedic medicine has come for penis enlargement. Sudarshan goes to get the medicine and brings Sanyaasini to personally deliver the medicine. Shraddha Das says she has to stay at Santosh's house to deliver the medicine personally to him. Sanyaasini instructs Santosh that the medicine is a 7-day course and has to be taken daily at 3 am. She also warns him about the side- effects like excess hunger, rage, and severe stomach ache. Santosh accepts it and starts taking the medicine personally prepared by her. The suicidal cousin along with Ram Mohan suspects that Santosh has an affair with the Shraddha Das. The cousin tries to explain to Amrutha but she never believes it. Side effects have a toll on Santosh's married life, especially with the rage. Sanyaasini also appreciates Santosh's love for Amrutha because he is the only person who has continuously taken the medicine for 4 days while the rest stopped it within 2 days. On the final day of the course, the medicine gets mixed in lunch preparations thus consumed by all cousins they fight among each other as a side effect. Later, Santosh gets intimate with Amrutha and he realized that Amrutha did not complain about his size.
Things go well and Amrutha's family comes to visit her. Unfortunately, the cop who caught Santosh in the raid is Amrutha's uncle and he reveals his encounter with Santosh and his father. Amrutha's family felt cheated and they take her away. Santosh tries to reconcile with her for the past 3 months but the family doesn't allow him to meet and tries to break the alliance. The psychiatrist listens to Santosh's issue and then he explains that his fears and stigmas are rather mental-oriented and it doesn't have to do anything with his penis size. He suggests Santosh stop worrying about society's perception, stop believing in all kinds of medicines for penis enlargement and immediately meet Amrutha, tell her the truth come or may, and apologize to her. The psychiatrist later meets Ram Mohan and blames him that he failed to understand his son's mental issue and address it. As a result, Santosh alone had to fight his own stigma of a small penis for the past 20 years and not committing suicide as a saving grace.
Finally, Santosh goes to Amrutha's place, takes a loudspeaker, and expresses his love for her, his fear of having a small penis, but he doesn't care about society anymore. Santosh and Amrutha reconcile, their marriage is saved and have a son. One day the son asks Santosh how are kids born. Realizing his own experience as a child when he asked a similar question to his father, Santosh decides not to have such a situation with his son. So he starts explaining to his son in a way kids really understand and in a less controversial manner.​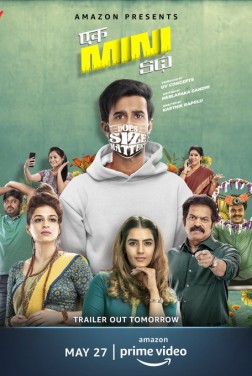 4K
Original title:
Ek Mini Katha
Ek Mini Katha (2021)
Trailer