B.A. Pass 3 (2021)
​The story begins with the death of the parents of Mukesh, a teenager who has just graduated from senior high school. Mukesh is put into the care of an unfriendly aunt. He struggles to get along with his aunt's family who refuses to provide him with any money. As he struggles to study in the first year of his BA, he also worries for his two sisters who have been sent to live in an orphanage for girls. Mukesh bonds with an undertaker named Johnny over their mutual love of chess. Johnny has a brother in Mauritius who has invited him to live there, but Johnny has no money to get to Mauritius. He tells Mukesh of his dream to leave the country one day.
One day Mukesh is introduced to a cougar named Sarika, a woman much older than him, at a kitty party in his aunt's place. He happens to go to Sarika's home to get apples, only to be seduced by Sarika. She pays him for his services as a gigolo and the two routinely have sex. Sarika introduces Mukesh to many older women who finally make him a male prostitute. On one occasion Sarika and Mukesh are caught having sex by her husband. He complains to Mukesh's aunt that Mukesh had been seeking a loan from Sarika, and tried to kiss her. This makes Mukesh's aunt throw him out of the house.
Mukesh comes to Johnny's house and stays with him. Sarika refuses to stay in touch with him, and makes sure that none of her female friends who were Mukesh's clients entertain him. Frustrated, Mukesh asks Johnny to visit Sarika and ask for the money she owes him. Johnny returns to say that she refused to do so and threatened to call the police.
Meanwhile, Mukesh's sisters are having a hard time at the orphanage. Out of desperation, Mukesh decides to offer his sexual services to men. In the process, he is raped and beaten up by a gang.
Feeling betrayed by Sarika and holding her responsible for his misery, Mukesh barges into her home and demands the money that is due to him. Sarika says she gave the money to Johnny, but Mukesh refuses to believe her. Sarika's husband, Ashok, arrives suddenly, and to prove her innocence Sarika makes an unsuspecting Mukesh stab her lightly to make it look like he attacked her. In a state of shock, Mukesh stabs her three more times till she dies, in front of Ashok. Mukesh then runs away to Johnny's house.
Shortly, he receives a call from his sisters who have run away from the orphanage, and need his help. Mukesh realises that Sarika told the truth, and Johnny has packed up and left the country with his money. He receives another call from his sisters to pick them up at the railway station. Mukesh tells them to wait till he arrives. On his way, he is seen by the police who chase him to the top of a building's balcony. As the police point a gun at him, he gets yet another call from his sisters. Mukesh while trapped, commits suicide by jumping off the balcony and dies on the spot.​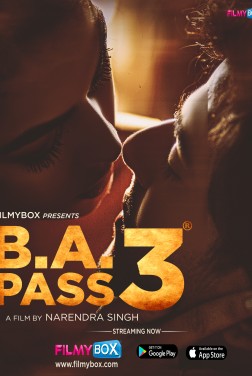 4K
Original title:
B.A. Pass 3
B.A. Pass 3 (2021)
Trailer