Watch Buckley's Chance (2021) Online
Ridley (Milan Burch) is dealing with the loss of his father, who died one year ago as a hero while saving three people. His mother, Gloria (Victoria Hill), decides to leave New York and move to Western Australia, where the two can start fresh and live with Ridley's grandfather, Spencer (Bill Nighy). Naturally, Ridley would prefer to keep to himself and has no interest in the big move or connecting with his unknown grandfather Spencer.
Upon meeting, Spencer gives the appearance of being an old and grumpy man. Still, overall, he is relatively kind towards Ridley and wishes to help him adjust to his new lifestyle in the outback, even offering to take him camping. Spencer also gives a warning of the dangers to Ridley, explaining to him about nearby Dingos. Ridley is put off by his support.
One night, while Ridley and Spencer are camping in the outback, the two have a disagreement, and Ridley walks away. Soon, he finds a wounded Dingo stuck in a trap. Ridley frees the dingo, and the two share an unlikely moment. Unfortunately, the dingo runs away into the night, and later, both Ridley and Spencer go home. The following day, however, Spencer finds Ridley has disappeared and possibly run away from home. Now Ridley is lost in the outback and reunited with the same dingo he just saved. Together they hope to escape and survive the dangers of the outback while Spencer and Ridley's mother begin their search.
Buckley's Chance is best classed as an Australian family film with little moments of heartfelt drama. The film is filled with great messages and positive vibes right from the opening. There are also attempts at humour along the way, primarily thanks to the film's dim-witted bad guys.
Performances are wonderful. Bill Nighy once again proves, as always, that he is a stunning actor (seriously, Bill, call me, let's catch up for a coffee!). The acting debut of Milan Burch, who plays the leading role of Ridley, was most undoubtedly impressive and pleasing to see. Based on the young actor's work here, I am confident we will see more of him in films to come.
The film's music and soundtrack score were rather touching and pleasing throughout the duration, with only a couple of minor moments felt overdramatic compared to what was on-screen. Side performances from Victoria Hill and Kelton Pell were also great. There were no significant concerns with the film other than, as already stated, the bad guys who I found far too silly. Again, this is a family drama film and somewhat to be expected. The opening, which introduces the character of Spencer, was also questionable, and I felt this introduction could have been far more impacting. Still, thankfully this was forgivable as the film progressed.
Overall, I had a wonderful time watching this film. It's a touching, adventurous, and light-hearted story filled with positive messages about overcoming hurts, surviving, and, most importantly, family. The performance from Bill Nighy is brilliant, along with newcomer Milan Burch who also leaves a positive impression. This is undoubtedly an Australian film worth supporting as it reminds the world that even when you're feeling lost, you are never truly alone.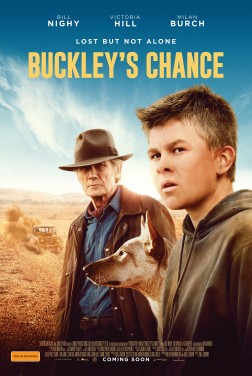 4K
Original title:
Buckley's Chance online
Buckley's Chance (2021) online
Trailer