Sound of Freedom (2023)
A representative of a modeling agency comes to the house of a poor Mexican. She takes an expert look at his cute children, Rocío, a girl of ten or eleven, and Miguel, an eight-year-old boy, claiming that they have a good future in this industry. The usual-looking casting takes place in a rented room, the children are photographed, probably for a presentable portfolio... But when the father returns in the evening to pick them up, he finds no one and nothing - the building is empty!
Thus begins a heart-wrenching crime drama based on the true story of a stream kidnapping of minors to force them into prostitution.
Meanwhile, somewhere in America, agent Tim Ballard, who tracks down and arrests perverts who watch child porn, barely watches another vile video, cries every time he realizes that his work only affects the tip of the iceberg, and the rest is hidden deep. He wants to eradicate the origins of evil, to catch the filth that organizes this inhuman business, to seek out unfortunate children who are used for profit, to morally corrupt them, to break their psyches, to ruin their health and to deprive them of their childhood.
The stolen Miguel is lucky - Tim saves him and returns him to his father. But in the hands of the bandits was a sister. Thus, the hero goes on a dangerous and long journey, because he promised the boy that he would find her...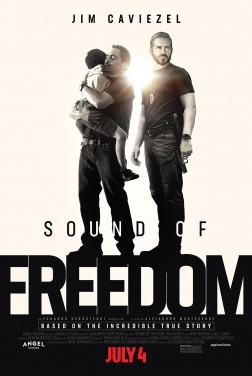 4K
Original title:
Sound of Freedom
Sound of Freedom (2023)
Trailer